I'm tired of going green. Give me some ass-kicking off-road attitude, along with a fat Honduran cigar and somemodern supercharger action and let's call it a damn day. Sure, there's still a place for most vehicles out there, but when it comes to trucks there's just something special about a heavily modified 4×4 torque monster.
Americans absolutely love having some hardcore off-road options, regardless of whether they plan to take it trail hunting or not. It's part of who we are as a culture, and as interest in the aftermarket modifications of vehicles continues to grow, automakers are tuning-in like never before in order to offer buyers an "off the shelf" option that is ready for action the minute they hand over the keys.
I recently had the privilege of attending the press days leading up to the 2016 Chicago Auto Show (CAS), and while there were a lot of badass cars on display, I kept my eyes peeled for a few outstanding truck options to feature.
Needless to say, CAS this year did not disappoint, and I was able to snag some photos and info on a handful of unique trucks that certainly warrant mentioning. Some were designed for torque and making a diesel-powered statement at a stoplight, while others focused on conquering snow and mud in a multitude of ways, with custom interiors still in place to keep it all classy. So here are a few of the most extreme machines from CAS 2016. I'm calling them, "Chicago's Great Eight."
2. 2016 Shelby Ford F-150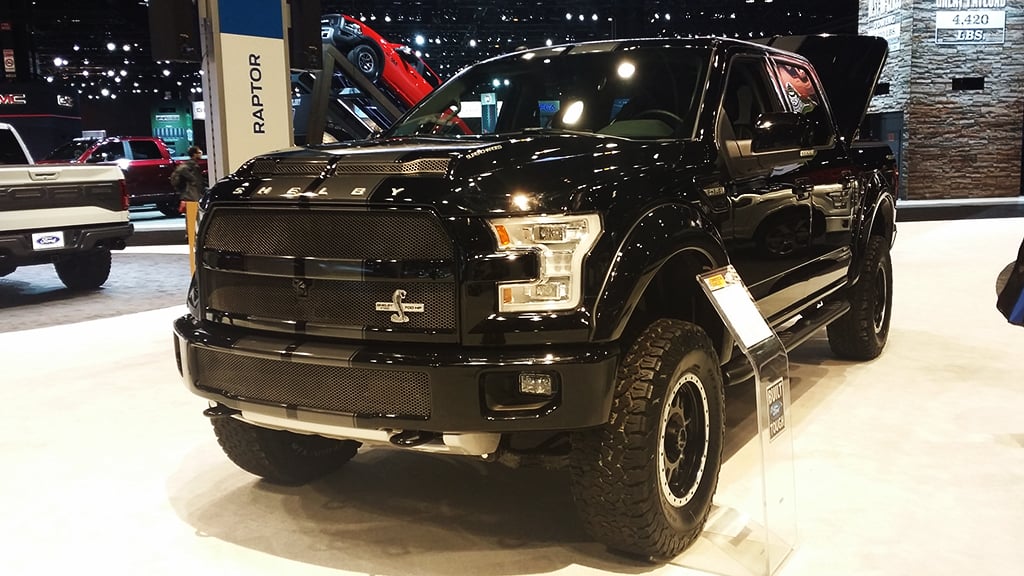 Supercharged to the point where it's cresting 700 horsepower, this Shelby version of the F-150 was easily one of the greatest things to see in person at CAS this year. By channeling an approach that is typically reserved for Mustangs, the V8 equipped F-150 suddenly reaches rockstar status via its custom Fox shocks, Borla exhaust, 3.5″ lift, 18-inch Shelby engraved wheels, and that dual ram Super Snake hood. The interior got some slick upgrades as well, with custom leather embroidery and Super Snake logos making their mark throughout.
2. 2017 Toyota Tacoma TRD-PRO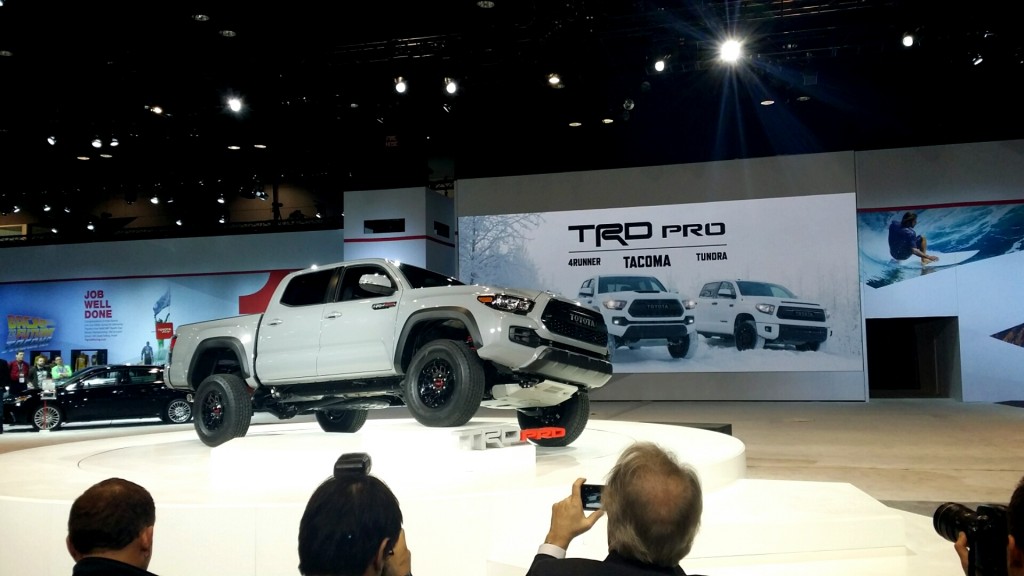 I was there for the live unveiling of the reincarnated Tacoma TRD-PRO, and while I still feel that it looks a little pedestrian without a more hardcore set of tires on it, I have little doubt that it will be quite the competent beast in the wild. With its one inch lift all around, custom Fox dampers with remote reservoirs in the rear, a 1/4-inch thick skid plate, and crawl control settings, Toyota has taken a staple and made it even more capable.
3. 2017 Ram Power Wagon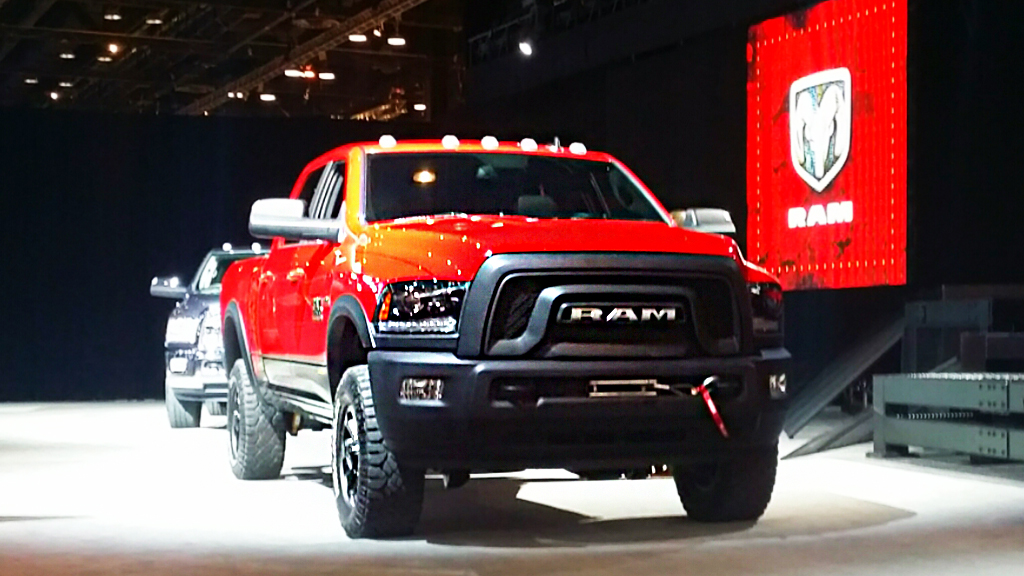 Rocking a fresh redesign that takes after the Rebel, Ram's original work horse is back and better than ever sporting a 6.4-liter Hemi V8 that spits out 410 horsepower and 429 pound-feet of torque. This means its good for towing upwards of 10,000 pounds thanks to its new 11.5-inch axle, which is up from 10.5 in the outgoing model. There also is a Warn winch up front, two inches of additional ground clearance, and those 17-inch forged aluminum wheels, which come wrapped in 33-inch Goodyear Wrangler DuraTrac rubber. This truck also comes complete with heavy-duty skid plates beneath it, and all kinds of Power Wagon vinyl graphics across its hull.
4. Nissan PRO-4X Titan XD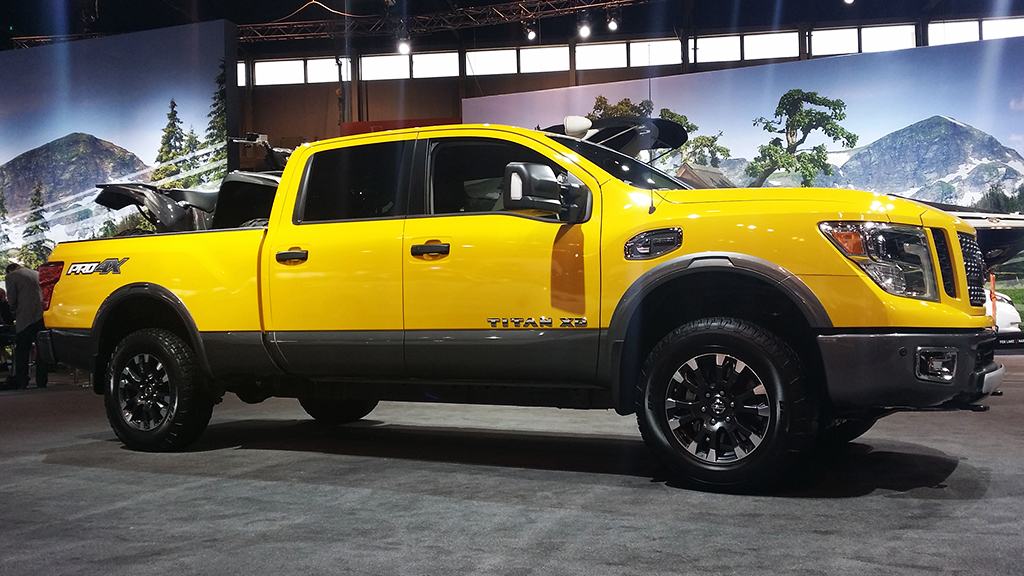 Taking a truly outdoorsy approach to CAS, Nissan outfitted its booth with all kinds of wilderness influences, including this ATV-hauling 2016 Titan XD PRO-4X seen here. Built around a Cummins 5.0-liter turbo-diesel engine, this big yellow beast boasts 310 horsepower and 555 pound-feet of torque. Rocking a set of custom tuned Bilstein off-road shocks, a switch-operated two-speed transfer case, and steel skid plates, the Titan PRO-4X really has made a name for itself in the market. This truck also comes standard with an integrated gooseneck hitch in the center of the bed, because with 12,300 pounds of maximum towing capacity on tap you might as well have some trailer options.
5. GMC All Terrain X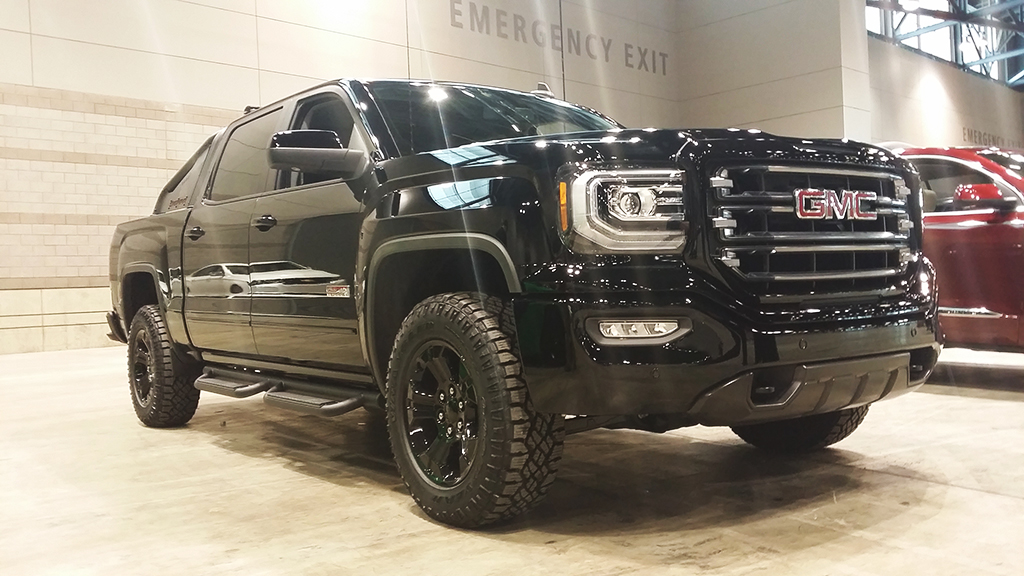 GMC really took it to the house with this one, and while it may not be as hardcore as some of the other trucks on today's cheat sheet, it still remains one of the coolest looking of the bunch, and for good reason. But this isn't just some limited edition appearance package — it really is a bonafide off-road upgrade option for enthusiasts. From its performance exhaust and Mud-Terrain-rated Goodyear Wrangler DuraTrac tires to the bed-mounted sport bar and integrated black side steps, this pickup is a fantastic off-road option for anyone not wanting anything too flashy.
6. Nissan Murano Winter Warrior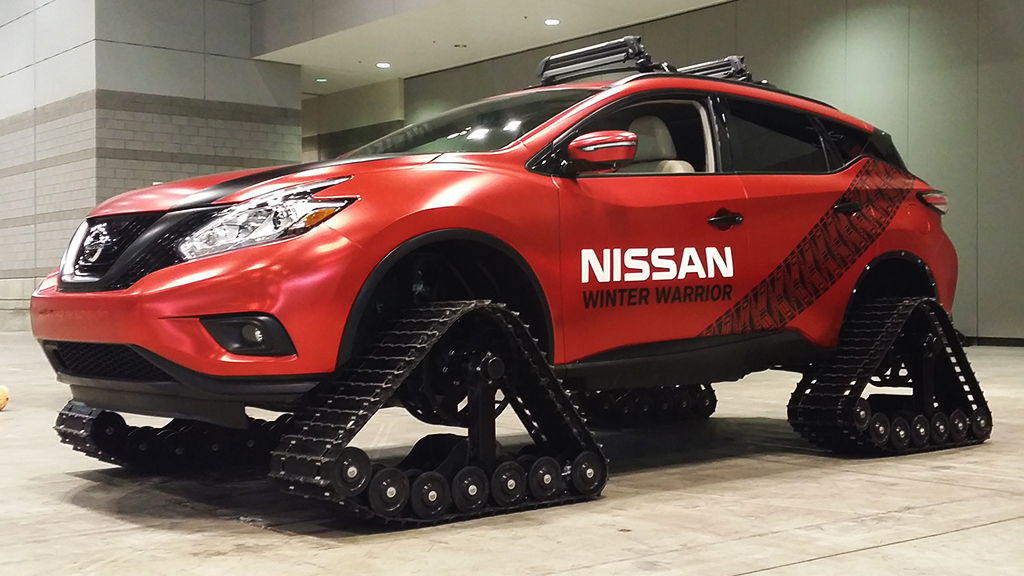 Okay, I know this "snowmobile" isn't really a truck at all, but it was just too badass not to include on today's list. Just look at it! Nissan's Winter Warrior experiments may never become production vehicles, but damn are they still cool regardless. Sure, these little CUVs are definitely limited as far as top speeds are concerned, but between this Winter Warrior Murano's custom suspension upgrades, black roof rack, slick vinyl graphics, and badass trax, we'll keep praying for a snowday so that we can all go out and play.
7. 2016 Ford F-750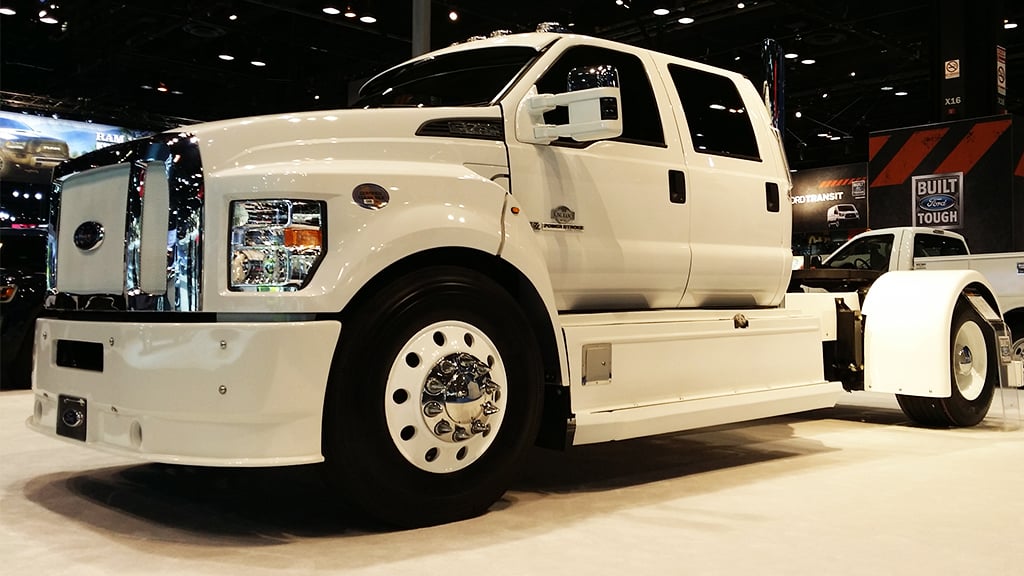 Sometimes you've just got to go big or go home, and in true Ford fashion, it brought something to CAS this year that no one else could match. Sporting a 6.7-liter Power Stroke turbo-diesel V8 that puts down 725 pound-feet of torque, this missing link between pickup truck and semi was easily one of my favorite vehicles from CAS this year. Featuring custom fenders, aero, side steps, wheels, exhaust, spike lug nuts, and a slick LED light bar, there was no ignoring this big boy and its equally large $145,000 price tag.
8. Jeep Wrangler Red Rock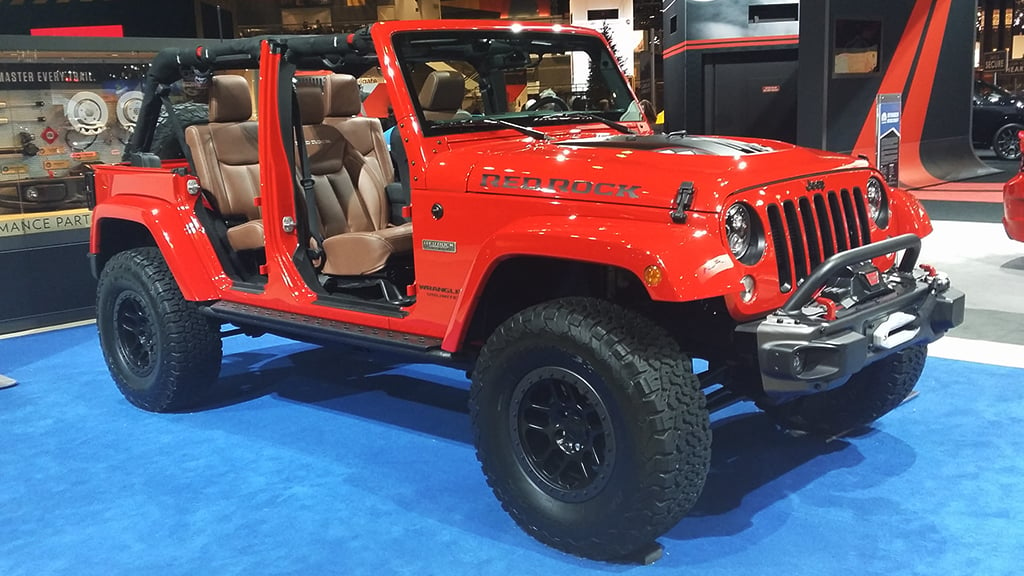 Our final entry today comes in the form of a Jeep that made its debut at SEMA last year. Based on the Wrangler Rubicon Hard Rock, the Red Rock sports a manual transmission, Dana 44 live axles front and rear, 4.10:1 gears, a Rock-Trac transfer case, a vented power-dome hood, rock rails, and red tow hooks front and rear. There also is a custom 73.1:1 crawl ratio, 35-inch BFGoodrich K02 All-Terrain tires, 17-inch beadlock wheels, a two-inch lift kit, and LED headlights and fogs. Other fun features include a Jeep-branded CB radio, an integrated Warn winch, and Katzkin leather seats with silver accent stitching and embroidered Red Rock logos.